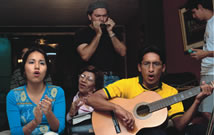 Here are some thoughts for prayerful consideration as an approach one might use in playing their instrument for the glory of God. Although the questions and responses expressed here are focused mainly upon the guitar as an expression in worship, most of the information could be applied to any instrument one might wish to befriend in worshiping our Lord.
Should I take lessons, or teach myself instead?

There are advantages to both ways. You may be a person who will benefit more from personal instruction than from reading a book. Or you may be the type of person who needs the deadlines of a scheduled lesson to get you to practice. If you are serious about your musical gifting, it may be that you will want to become absorbed in a tradition that seems imparted best in a teacher/student relationship.
There are also advantages to teaching yourself. Money and/or schedule constraints could be factors. You might prefer (as I do) the freedom of organizing and pacing your own learning process. Or you might even have trouble finding a teacher with whom you work well, or who can teach you the kind of guitar playing you want to learn.
Whichever way you decide to go, don't let anyone tell you that you can't learn the guitar without lessons. Many guitarist have taught and are teaching themselves and have become quite good without formal training of any kind.
If you decide to take lessons, it's essential that the teacher you choose have a good rapport with you, be able to convey their knowledge in an exciting, involving way, and be able to teach you the kind of playing that you want to do. Finding the right teacher can mean a vital, enriching your love of the instrument.
Should I have a fixed practice period every day?
This will depend on how you personally learn best. You may find that the discipline of a fixed practice period helps you focus and produces a steadier progression in your learning. Or you may find you work best by picking up the guitar when you feel moved to and playing it only as long as the impulse lasts. Or you may hit on some balance between these two extremes.
Many times students are told they must practice every day or they will "lose what they have." While this may be true for advanced instrument guitarist it doesn't seem to be so for beginners. Many musicians (myself included) can tell of having shoved aside their instruments for weeks at a time, only to discover when they picked them up again that their playing had actually improved!
Should I do exercises as a regular part of my practicing?
Again, it depends on how you learn best. Exercises can definitely be helpful in building your technique. On the other hand, it isn't worthwhile to spend a great deal of time "building your technique" if it destroys your love of playing! You will have to explore this for yourself.
Should I learn to read music, or should I play by ear instead?
This is strictly a matter of personal preference, depending on how you feel you would like to play. There's no reason you can't do both! Of course, playing classical or most complicated music will require you to read where as improvising or spontaneous music means playing by ear.
Contrary to popular myth, it is not necessary to learn to read music before you can play by ear. Would you teach a baby to read before it could talk? If anything, first learning to read music makes playing by ear more difficult, since you then must overcome your dependence on the printed page. Another destructive myth is that only those people who are "musical" can play by ear. Not true, anyone can!
How do you suggest learning to play in a way that will bring glory to God?
Keep yourself in a worshipful attitude whenever you pick up your instrument. Play for His ears alone and not to try and please others who may be listening while you play. Don't get caught in the performance trap of playing to please others with your music.
Always play for an audience of ONE!
Listen to some peaceful worship music that includes guitar music.
Ask the Lord to give you ears to hear how you can use your instrument of worship and praise to bring glory to His name. Ask Him to unite the sound of the instrument with the expression of your heart in worship unto Him.
If you can only play one note on your instrument take that one note and offer it up in worship to the Lord and ask Him to give you more sounds and tunes with which to bless Him in a loving heart of worship.
Play with other like minded worshipers as often as possible.
Play different guitars if you get a chance.
Be careful how you hear, don't listen to just any music, lend your ear only to that which glorifies our Lords name and lifts the spirit.
Listen for the voice and instruction of the Holy Spirit. He your Teacher, ask Him to teach you and guide you in your playing and your listening.
How do I approach this instrument?
Usually the guitar is approached in one of two ways. One is in the spirit of domination: If you attempt to "conquer" the instrument, to force from it the secrets of its sounds and operations, your guitar playing in all likelihood will be a continual fight every step of the way. The fight and frustration will come out in the music you produce. I suggest instead that you approach this instrument with an attitude of love and appreciation.
This loving approach to your guitar means becoming aware that you and the instrument are co-producers of the music, partners together in the creation of sound which you are offering as worship unto our Lord. Ask the Spirit of God to use the instrument to deepen your relationship and understanding of Him in your worship of Him. Ask Him to anoint the sound of your music as well as the playing of the instrument as you worship Him with your whole heart, your body and soul. As your respect for the use of the guitar as an instrument of worship and your relationship with the Lord deepens, you and your guitar can begin to grow together and gradually become fused together. This will result in a flow together from God's throne room as a heart and sound of one instrument of worship unto your King.
Ask the Holy Spirit to help you to develop sensitivity toward your instrument and its mutual relationship with you the player as you seek to bless the Lord with this wonderful instrument. When you approach the guitar in a humble spirit of love, you will find the Teacher Himself who lives inside you beginning to play through you. He alone knows how to use you and the instrument to best express the worship that is deep in your heart as well as His. If you can begin to understand the truth of the words of Jesus when He said, "That the Father seeks those who will worship Him in Spirit and in truth; (John 4:23) then that knowledge will ignite the Spirit of Truth Himself, the Holy Spirit residing within you to worship with sounds and expressions you have not yet heard or even dreamed. The Holy Spirit is not only willing but is in fact waiting to teach you to worship and play your instrument in a way the Father is seeking, a way that are far more pleasing to Father than you could ever discover stumbling around on your own. Oh Yes, this is for real!
There is truly much to be gained from a relationship with your guitar in expressing a heart attitude of worship to your Lord-the enjoyment blending the sounds of heaven with the sounds of earth, the joy of creating music and expressing the Lords Song, the peace of a focused outpoured heart crying, "Abba Father", and the revelation of Jesus that comes as you release an open spontaneous heart of worship. All these and more can be yours as you grow in the love of your Lord with your guitar.
Getting a Sound from your guitar.
Getting a sound from your guitar is easy! That is probably why it is the instrument so sought after by so many people worldwide. Contrary to popular belief you don't have to be an accomplished guitar player to get a pleasing sound from your guitar. Through one guitar method I have taught, a child of three can be playing in just a few minutes of loving instruction. I have had 8 year olds playing chords and strumming along with songs in five minutes time. Just begin to slowly and lightly strum (with a down stroke) across the strings with your thumb of your right hand with out fingering any chords with the left hand. After getting the sound and feel of your thumb on the strings for a bit then begin to bring you first finger (index or pointing finger) back up the strings with a slow gentle movement.
After you get the initial sounds coming from strumming the strings then you can begin to work on chord position and progression. With a prayerfully attitude and a seeking heart you will be surprised at how quickly you will begin to pickup simple songs. Before you know it you will be creating music that is an expression straight from the heart of God.
Others peoples songs are wonderful and inspiring but soon you'll just have to express you what is in your own heart with sounds and words that spring directly from the Spirit within you.
May the rich blessing of our Lord Jesus be yours in your new adventure with Him as you learn to become co-joined as one sound of heart felt expression of worship unto your Lord with your guitar.
Playing in the presence of the King,
jonathan